With the completion of the Airbnb Brooklyn Half Marathon last weekend, it appears that the Spring Racing season has ended and Hot Weather running has arrived.
We hope you are enjoying a short respite and enjoying some grilling and sunshine as you trade in your merino long sleeves for dri-fit tank tops and your capris for your short-shorts. Keep on those runners though, because our summer is shaping up to be an active one you wont want to miss out on!
Here's some of CHRC events and #CHRC target races you can look forward to this June
**Event dates and times subject to change ** Regular weekly group run schedule continues ** Keep your eye on our updated Schedule for the latest **
June 1: Global Running Day – Join in on a Global pledge to run! NYRR will have Hydration Stations. Liz will meet CHRC at 6:15am at Franklin & EPW to join the Coach-led Group Morning Run @Grand Army Plaza (6:30am)
June 5: NYRR Retro 4-Miler – Summer Club Points Race opener. Come cheer your #CHRCMen and #CHRCWomen in Central Park as they sport their old school cotton gear.
June 5: Girls on the Run 5K Volunteering – If you're not running the 4-Miler, we encourage you to give back to this amazing sport by spending your morning with these inspirational girls as they run their first 5K! You won't regret it.
June 5 @5:00pm: CHRC Royal Council Open Meeting – Interested in learning more or contributing your time to the club's organizing committee? Every year, the Royal Council meets in the January and in June for an open meeting to all club members who want to discuss all things Royalty.
June 12: CHRC Outing to Bear Mountain – Kaitlyn will be leading a day hike/trail run at Bear Mountain. Details to come!
June 18: NYRR Queens 10K -#CHRCWomen and #CHRCMen take on a Five-Borough Series Race in Queens. Brunch to follow, surely.
June 19 @7:30pm: TCS NYC Marathon 2016: HERE WE COME! Are you running the Marathon this November? This day is 20weeks out from the big day. Let's get together and talk goals, training, what the next 5months of preparation will mean for you, for us! This is Meeting #1 of a series of get-togethers to come throughout the summer training season.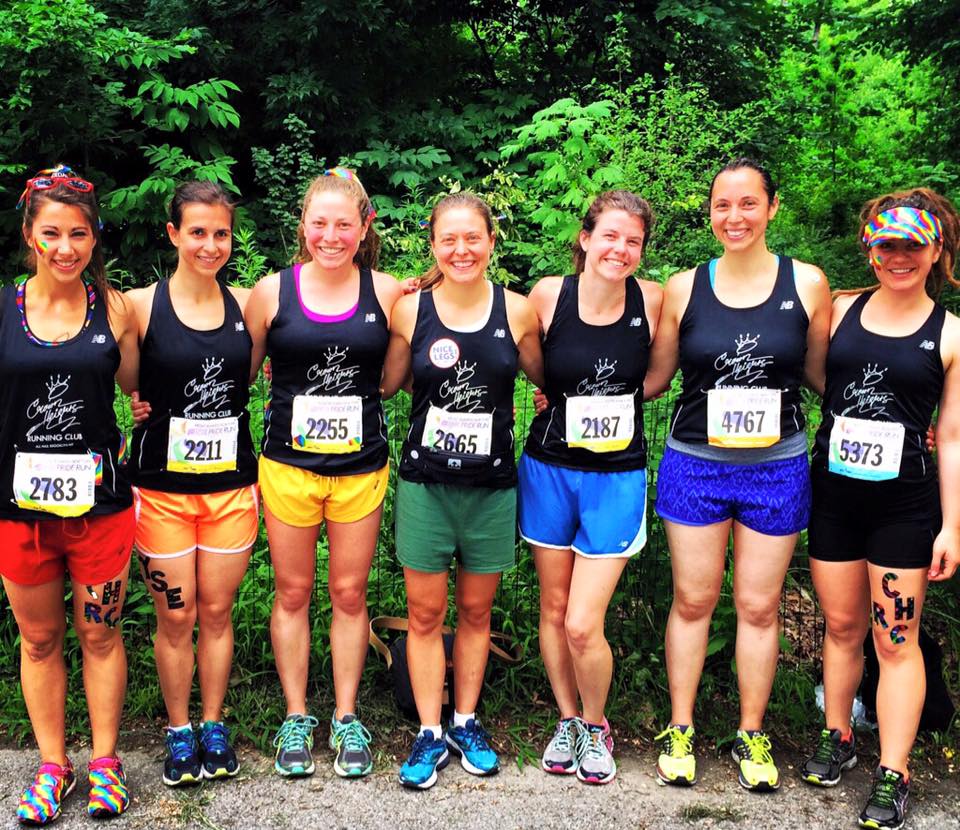 June 20-30: Shoppe Opens for Gear Orders – Hurrah!!
June 23: Nutrition Lesson – Details to come for this new series of informational talks from the CHRC Events Committee.
June 25: NYRR Front Runners New York LGBT Pride Run -#CHRC teams will be taking part with all the colors of the rainbow in Central Park for this major Club Points Race.
June 27: Monthly Meet'nGreet – Our monthly opportunity for runners to get together and enjoy a drink or two, meet new friends and unite with old ones.
Not included above: PPTC Al Goldstein Speed Series in Prospect Park on Wednesday nights and TBA – Monday night bike rides! So many more exciting Events coming in July and August!