Week of March 27-April 2
---
RACES, RACES, RACES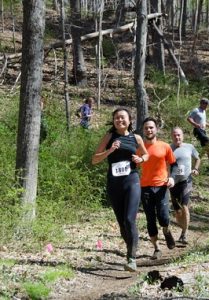 Running is great for so many reasons, but what about racing? Even if you're not the competitive type or you don't like the pressure of running at speed, racing (or running race events) has great benefits for every runner:
provides motivation,a sense of accomplishment and acknowledgement of your progress
allows you to take over the streets and tour areas you may not otherwise have a chance to
a way to support a cause that might be meaningful to you
connection to a community. Whether you're running as part of #CHRC #RunningRoyalty or not, racing brings the running community together in an event that is joyous from start to finish.
This public sheet can help you find a goal race with #CHRC. Add your name if you're joining us for any of the events.
Here are some others that may interest you:
Red Hook Criterium 5K
Location: Brooklyn Cruise Terminal
When: Saturday April 29th
Sign Up: $35
For the sixth consecutive year, the race will be held at the Brooklyn Cruise Terminal and will consist of 4 laps around a technical 1.25-kilometer USATF-certified course. Separate men's and women's races. Substantial prize purse.
The New York Harbor Oyster Classic 5K
Location: Governors Island
When: Saturday, May 13th
Sign Up:  $35 to enter until April 10. Use coupon code NYCR2017 and you'll get 10% off.
Governors Island is the most beautiful place to run in NYC, especially in mid-May!  NO CARS – in fact the island won't be open to anyone but the race participants until 10AM!! Good fun. Fast course. T-shirt & post-race breakfast food.
SBRC Warriors Relay (33miles, 8 legs)
Location: Van Cortlandt Park to Coney Island Brewery
When: Sunday June 4th
Sign Up: $200/team. Email us to be connected with other CHRC members to form a team!
This is an alley cat road race inspired by Walter Hill's 1979 film, The Warriors. You'll trace the route that the Warriors took as they escaped the Bronx after being framed for killing Cyrus.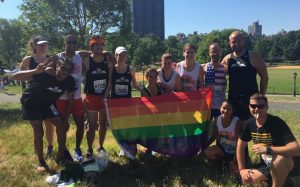 LGBT Brooklyn Pride 5K
Location: Prospect Park
When: Saturday, June 10th
Sign Up: $35. A portion of the revenue generated will be donated to Cheer New York, an all-volunteer non-profit cheerleading squad, made up of LGBT adults and straight allies. Their mission is to support the fight against AIDS and other life-challenging conditions by raising money for local charities through their "Cheer for Life" fund.
---
APRIL CALENDAR UPDATES
Be on the look out in the coming weeks for announcements and information about:
New Member Run and Orientation (April 22nd)
Day Hike in Beacon (April 15th)
Gear Shoppe Opens (April 16th)
---
GET INVOLVED
CHRC is 100% organized and run on member involvement!
We rely on our running family to ensure that our community continues to grow and meet the needs of its fabulous royalty. If you are interested in contributing your skills, enthusiasm and a little time, join one of our three committees (Community, Events, Run Leaders) or consider joining the Royal Council.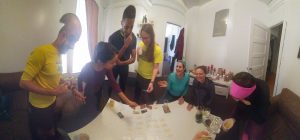 Email us <contact@crownheightsrunningclub.nyc> and let us know how you would like to get involved!