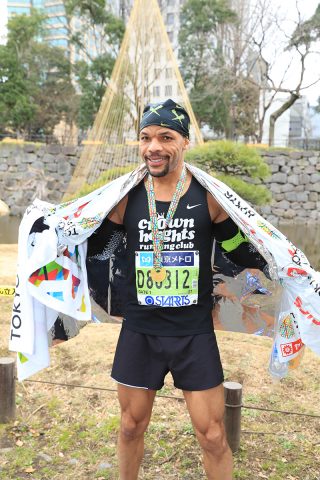 TO START
Going to Japan had been a dream of mine since I was a 13-year-old learning Japanese against my guidance counselor's advice. It was my favorite class and the one in which I did the best. Didn't know it would take so long for me actually travel to Japan, but the Tokyo Marathon gave a great reason to finally make the trip.
THE EXPO
Like any other large race — Tokyo is one of the five largest in the world — race weekend started at the expo, which was held at a giant, futuristic looking event hall called the Big Sight. Hundreds, if not thousands, of runners were patiently lined up to get checked in and collect race packets. Once inside, the race staff and volunteers worked to get us through quickly, even as we had to go through all of the security checks: providing IDs for verification, having our photos taken, and having our important information associated with our individually coded wristbands.
From here, the next step for runners is the upper level of the expo, itself. The upper floor is the designated space for booths set up by various race sponsors. With a constant barrage of lights, electronic sounds, and booth staffers projecting their voices above one another, this area at times felt like being dropped into a mash-up of Times Square and a chaotic video game . . . or a regular day in Shinjuku. (I later learned that the Tokyo Marathon Expo is the largest trade show in the country.) Since only registered participants are allowed in the bib pick-up area, this is where many people connected with their family members. I hung out on this floor a bit to have my photo taken a few times, buy some official race-branded snacks (yum), and knock back some non-alcoholic Asahi (um, okay), but passed many of the other attractions in favor of heading to the lower level where the vendor booths and much of the race swag could be found.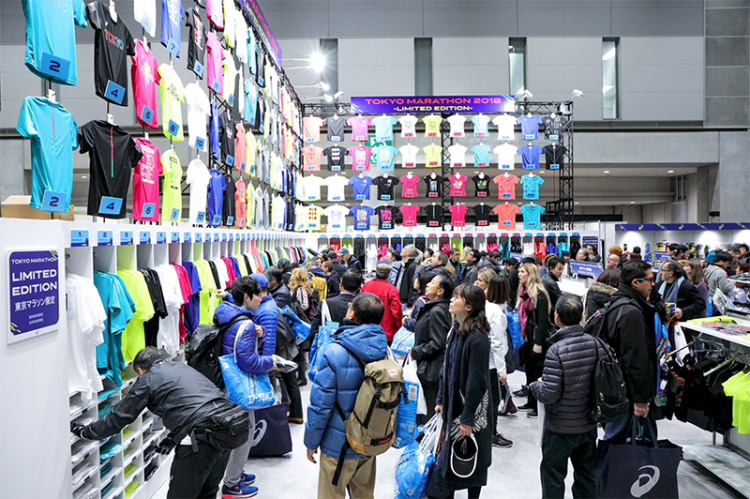 Parts of the vendor level were impressive. As the official apparel company for the race, Asics had the largest shop on the floor with over FORTY tech shirts on display! I regret not buying an official jacket because they've proven nearly impossible to find since the expo. An unexpected bonus of the expo was the Asics-run 2020 Summer Olympics merchandise booth where Kristen and I both found some nice wearables to bring home.
Unexpected bonus number two came outside of the expo hall: the look in Kristen's eyes when we came across a local band performing a cover of John Denver's "Take Me Home Country Roads" in both English and Japanese.
THE RACE
A simple breakfast and an uneventful train ride to the start village made for a very quiet beginning to what would be a great day. Going into the race, I had a predicted time goal based upon my training plan. If I were to hit this goal, it would represent a major improvement over my existing personal best. The jump was significant enough that, going into the race, I took some comfort in knowing that getting anywhere close to this (arbitrary) goal would represent a great achievement for me.
Navigating through the start village (on the grounds of the Tokyo Metropolitan Government Building) was made easy by the many volunteers from the Tokyo Marathon Foundation Official Volunteer Club. The "Voluntainers" even staffed the port-a-potty lines to make sure the traffic flowed quickly and smoothly. After doing a few warm up drills, I found myself in my corral and with great sense of calm. Small things that I either forgot for race day or moments of doubt felt during training didn't matter. I was here. I belonged here. I was going to be happy with the day.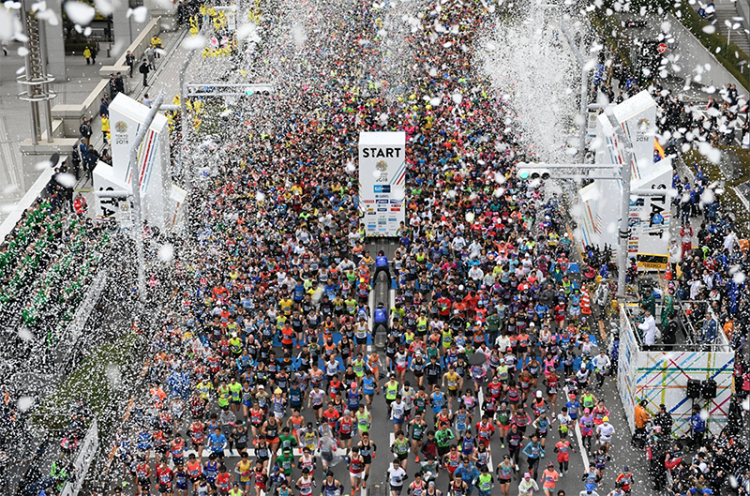 A big blast of confetti and we were off! For such a large field of runners, the race as a whole felt very uncongested, even through the first few miles. I was reminded at dinner the night before the race to be aware of the downhill over the first five kilometers of the race. Although I had it in my mind to take it easy at the start of the race, I could feel the pull of gravity driving me toward a more aggressive pace than planned. That said, my effort level felt right and I decided to ride my luck a bit. What's the worst that could happen?
The ten and fifteen kilometer marks came and went without any issues. There is a lot more new architecture than old to be found in central Tokyo due to most of it being built after World War II, but running into the Asakusa neighborhood gave an opportunity to see some of the oldest buildings in the city. At twenty kilometers, as I was nearing the halfway point, I still felt pretty strong. At the same time, I wondered how long I could hold the pace. Just because I felt good doesn't mean that I wasn't still pushing my luck. In the fifteenth mile, I knew I'd have to slow down a bit or else suffer for the remainder of the race. This tactic paid off: after slowing down, I was able to pick up the pace to something more in line with my goal pace for the next five miles. I was cruising and everything was awesome. Awesome until it came time to grind it out for the last ten kilometers.
Going into this last stretch, or true second half of the race, my legs still felt ready to go all day. Opting for a pair of VaporFly 4% racers over some of the more firm shoes I'd worn in prior races turned out to be a good decision. 4% improvement or not, the construction of the shoes did help me to keep pushing forward as my energy level dipped below where I would have liked it to be.
My gels weren't quite up to the task, but I squeezed every last calorie out of the next to last one I consumed. I say next to last because I dropped my last one on the course and would have to rely on the aid station offerings to hopefully give me a boost. I didn't try the majority of what was available — bread, oranges, salted plum, adzuki bean paste, salty candy, and chocolate(!) — but did get my hands on what would feel like my saving grace: cherry tomatoes! I was only able to get a couple of handfuls as I ran through the latter refreshment stations, but enjoyed popping each sweet burst of goodness into my mouth. Well, as much as I could when I really wanted to be on the other side of the finish line.
Much of the race's final ten kilometers takes place on one of three out and back sections of the course. On an early one, I was able to see the elite competitors heading the other direction. Going into the final one, I felt like the turnaround was always another kilometer ahead; so close, yet just out of reach. Eventually, I made it to the last turnaround and even though you're never done until you cross the finish, I knew that I'd happily be across the finish line shortly. Despite looking rough (as witnessed by a friend who spotted me on the course), I was going to make it through on cherry tomatoes and will power.
About 800 meters from the finish, I saw another runner speed past me. Although there was no way that I'd be able to latch onto him to carry me through, I knew that it was time to pick things up and make a strong push toward the finish line. One last turn and the finish line was in sight! Above the cheering spectators, I could hear the PA announcer acknowledging different runners as they closed in on the finish line. Knowing that an international runner yelling in Japanese would get some attention, I screamed out something about the power of nature (credit: DJ Towa Tein and the Jungle Brothers). The reciprocal shout-out from the PA and love from the crowd was a great boost to have over the final 100 meters. And done.
POST RACE
It wasn't too long before the joy of finishing a marathon was joined by the physical discomfort of having run a marathon. Although a few other runners and numerous volunteers noticed how labored my walking was, the soreness in my hips and legs was secondary to the effect the weather was having on me. 40° F is an excellent temperature while running, but walking nearly a mile to bag check in the same conditions while wearing a singlet and shorts isn't as much fun. In the moment, my heat sheet became almost as important as my medal. Eventually I made it around the Imperial Palace grounds to Hibiya Park, where my checked bag was located. Soon enough, I was reunited with my wife and a crew of great friends from Chicago and Osaka who waited out in the cold to see me finish and to make sure that I made it out of the post-race area under my own power.
A COUPLE OF THOUGHTS…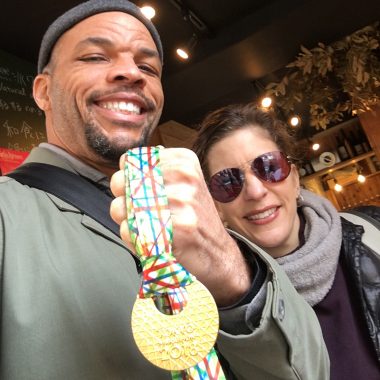 The high level of organization and local cooperation helped support an amazing experience for me. Being one of the Abbott World Marathon Majors doesn't just mean that the Tokyo Marathon is a large race in a big city that people run in order to complete the series of six races for a special medal. It means that organizationally, there is an expectation that the needs of the runners, from refreshments to security, will be fulfilled in a massive way. On this, Tokyo did not disappoint. As someone who has run the NYC Marathon a number of times, I also appreciated running in a city where the public transportation system worked with the race organization in a major way to ensure that runners made it to and from the race as efficiently as possible. Trains running on time and not on a weekend schedule before an event where you have to move thousands of people? Free one-day metrocards for all runners? Is this runner heaven? No, this is Tokyo.
Running internationally helps illustrate how much of a unique position we're in as runners in the US in regards to gender equity. While many marathons in the States have participant fields that are around half female, with even greater numbers in half marathons, the same cannot be said around the globe. Of nearly 35,000 total finishers at the 2018 Tokyo Marathon, less than 8,000 were female. Shows that the great work of women like Kathrine Switzer and Joan Benoit is far from done. I didn't sense any animosity toward female runners at the Tokyo Marathon, but would love to see more women participate worldwide and feel that American women can offer a lot by just showing up. (Charity spots for 2019 are scheduled to open this July with the lottery coming in August.)