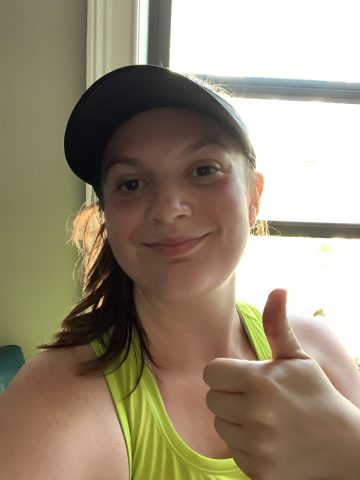 Hello fellow running royals – Madeline Breda here! This summer is my second time training for a marathon, and this November I will be running the NYC Marathon for a second time. I learned a lot during my last training block and this time, I'm trying to implement some changes in my strategy that ~I'm hoping~ will help to alleviate some of the issues I faced when racing last November.
As of today, I am almost done with my second week of the 16-week training plan.
Ups: The simple fact of this being my second time training for a marathon makes the whole thing feel more manageable and less scary. This summer, I am using NYRR's 16-week virtual training plan and I already feel more self-assured than I did last year, when I Frankensteined together Liz M's training template with multiple popular online beginner plans. It feels good to be only following one plan that gives very clear instructions and automatically updates workouts and goal paces with each new Strava upload. I'm consistently doing speed and tempo workouts for the first time ever, thanks to the guidance of the virtual trainer and the tracking abilities of my new Garmin Forerunner 235.
Downs: This being my second time around the marathon training block, I'm finding that – along with my increased confidence and familiarity with the process – comes a comparative lack of enthusiasm. Last summer, each long run over 13.1 miles marked the longest distance I had ever run in my life! The novelty was exhilarating! Now, I'm struggling to find the same excitement in my training. Switching things up a bit by adding speed work and yoga have been helping a little.
Dos: Hydrate! Wear sunscreen! Wear a hat! Be smart in the heat – take the day off or take it easy during your workout if you're really feeling the heat (I stopped every mile or so during my most recent long run to drink water and let myself cool off in the shade). Also, DO include strength training. I've been slacking on this front recently, but I'm positive that including just a bit more strength training in my plan this year (which is more than the almost-zero amount I did last summer) will help protect my knees on the big day AND help improve my overall running efficiency. My goal is to do yoga 1x/week at the studio, and include knee-strengthening PT exercises and stretching after some runs or at night before bed.
Don'ts: Under- OR over-do it. Last summer, I made the same mistake a few times: I skipped a regular run or two during the week, then tried to make up the mileage/intensity by lengthening my long run or doing a taxing workout on the days immediately abutting my long run day. This process left me absolutely beat by the time my next week of training came around, and the cycle would inevitably continue. I would be too tired to do my regular run on Monday, and would end up trying to make up for it over the course of the week. This summer, I'm trying to adhere as best as possible to the training plan (e.g. no skipping planned workouts) but ALSO trying to be more forgiving when I do have to miss a day, and not trying to make up for it later in the week.
That's all for now, I'll catch y'all in August!
– Madeline