What was your experience of doing NYRR's 9 +1 program for the first time like?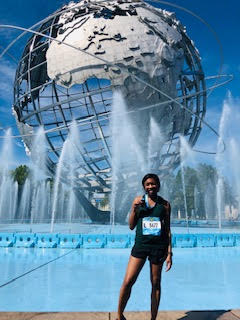 I first heard about the 9+1 program when I was attending a Zumba class at NYRR Run Hub. I struck up a conversation with a woman; excitedly I told her that I would be running my first race soon! She told me about NYRR group training classes and asked if I was running for 9+1 credit. She explained to me if I were to run 9 races and volunteer at one I would receive guaranteed entry at next years marathon. I had just began running at the time and idea of running a full marathon never crossed my mind. I entered my first race, the Italy Run (a 5 mile race seemed like the perfect place to start), and boy did I love it. The energy is electric, the camaraderie amongst runners is inspiring, the feeling of crossing the finish line—unmatched!
The best part of running races, is meeting hundreds of people who share a common interest. As I ran more races, I began striking up conversations with other runners. I enjoyed sharing my progress and love for running with people around me. I recall walking home from the Italy Run and I noticed two men who still had their bibs on. I asked them how they did- and they remarked they finished in somewhere around 30 mins. I congratulated them and told them I finished in an hour. I wasn't demoralized but inspired, everyone has to start somewhere and I was just proud that I had the courage to start. For the rest of the day a smile was plastered to my face, as I told family and friends of my accomplishment. But this was only just the beginning.
As I participated in more races, I would always get asked one question "Are you running the NYC marathon." I decided to finally go on NYRR website and research 9+1 and the NYC marathon. I came to the realization that if over fifty two thousand people run the NYC marathon and finish it then I can too! I finished my 9+1 requirements in November and am excited to run the NYC marathon in 2020!
Did you have any goals for the races? If so, what were they?
When I ran my first race, the Italy Run in June, I had no goals other than to finish and have fun. The more races I ran and the more I trained I began to make small goals for myself. My goals starting off pertained to endurance. I wanted to increase the time I ran for. These goals were trying to run continuously for 1 minute, 2 minutes, and so on. My next goal pertained to speed and this is one I'm still trying to achieve. In 2020, I want to complete a 5k race in under 30 minutes.
What was your favorite part about the 9 +1 program?
There were so many parts of the program that I enjoyed. I especially loved how NYRR has races in all 5 boroughs with varying distances. The NB 5th Ave Mile and the Bronx 10 Mile were my favorite races by far. At the NB 5th Ave Mile, it was amazing seeing people of all ages and performance levels perform. The Bronx 10 Mile was my first long race and first emotional finish. It was pretty tough and hot! The cheers from the crowd really helped me to finish strong.
Would you do it again?
I would absolutely do 9+1 again! I had a blast running races this year and can't wait for what's in store for next year. There was no better feeling to ring the bell on my ninth race and to have achieved a goal I've been working so hard for.
What advice/tips would you give to Royals wanting to do the 9+1 program?
Go for it! I recommend starting with 5k races and increasing your mileage when you feel comfortable. Also, tell your fellow Royals that you are participating in 9+1! Having the support of your club mates during races will definitely help with pre-race jitters. In addition, there really is no better feeling than to see people you know cheering for you from the sidelines.