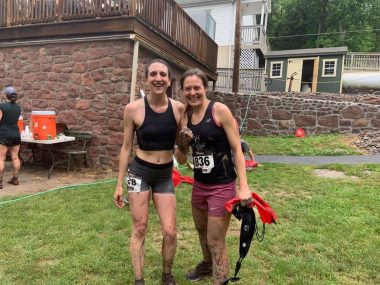 Kelsey: On a warm, sunny Friday afternoon, Brooke and I hopped on the train to New Jersey — a halfway point between Brooklyn and Reading, Pennsylvania. We picked up my car from my parents' house in NJ and Brooke was an excellent co-pilot on our 2-hour drive to Reading. We were looking forward to a Memorial Day Weekend getaway that included spending a night in an Airbnb in Reading and running the Charlie Horse Trail Half Marathon in Birdsboro Waters Preserve the next morning.
Saturday was race day and the weather was perfect. I was feeling good and excited after a (surprisingly) delicious Mediterranean feast for dinner the night before and some fresh morning coffee. Brooke and I were both coming off of road half marathons (She got an amazing PR!), so we were confident in our fitness but still had some pre-race jitters about tackling new terrain.
Once we got to the race and parked, we promptly boarded a classic yellow school bus at 8:30 a.m. with a bunch of stinky runners — it smelled overwhelmingly like sweat, sunscreen, and bug spray. The Charlie Horse half marathon is a point-to-point race, so we were all heading to the start as a pack. "Have you done this race before?" seatmates asked each other, trying to gain insight into the unique course. "You're from Brooklyn?!?" we got asked a couple of times.
About 200 runners toed the start line. We were all ready to cross two creeks, battle a mile of mud, and complete the course mapped as 14.2 miles long. After the start whistle blew, we ran down abandoned roads, over an old canal, across rolling hills, through multiple parks, and even through Charlie's property. Charlie was the founder of this race 22 years ago and still plays an active part in organizing it. Brooke and I ran most of the course together, chatting on the trails and enjoying banana slices at aid stations, and we finished within minutes of each other.
After crossing the finish line, Brooke and I were elated to reflect on the experience with new friends while everyone waited in line to rinse off all the mud with a hose. We were all insanely muddy — my back was so dirty that Brooke had to hose me down like a horse getting a bath. The water was so cold that I couldn't catch my breath. Some very smart women in line before us even brought shampoo and soap, and we soon regretted not taking them up on their offer to share. When we got back to NJ a couple of hours later, I took one of the most refreshing showers in my 27 years of life.
Brooke interviews Kelsey:
BS: What was your experience with trail running before this race?
KD: I had only done one trail race, Run the Farm in 2017, at which I had a great time! I was training for my first marathon, so was wary of pushing my speed because I wanted to stay injury-free. It was a really fun experience with the CHRC team and an awesome excuse to escape the city.
BS: What scared you about trail running?
KD: I was a bit worried of mis-stepping on the uneven ground and getting an injury before the start of marathon training season. I'd gained confidence and strength after Brooke and I did two training trail runs leading up to the race. Completing the trail half marathon felt like such an accomplishment, especially since Strava clocked 15 miles, but doing it without injury also felt like an achievement.
BS: What was the actual experience like? Favorite parts? Least favorite parts?
KD: The actual experience was really fun and felt like an adventure. I didn't have any time goals so was just trying to have fun and take it all in. The weather made it extremely pleasant and the varying course kept my attention.
My favorite parts were simply being in the woods getting some fresh air and talking to new people. We made a couple of pals on the course and it was really nice to chat with fellow runners. My least favorite part was definitely the mud! The whole time I was anxious about getting to the mud that I'd heard so much about on the school bus. I'm proud that I completed it, but will be satisfied if I'm never that muddy again.
BS: What was the recovery like afterwards?
KD: I was insanely sore for about three days. Waking up the next few mornings was painful, and I tried to embrace a little break from running afterwards to recover.
Kelsey interviews Brooke:
KD: You've run many trail races before — how did this compare?
BS: I'd done Run the Farm (5 miles), Leatherman's Loop (10k), and the OutdoorFest relay at Staten Island (a few 8k loops with long breaks in between). Running a trail half-marathon was my goal this year. Royals' descriptions of the Breakneck Ridge Half-Marathon, which left some of them pretty broken, had me a little scared, but the Charlie Horse Half was a comparatively easy course and as you said above, we felt pretty good when we finished.
The trail terrain was both easier and more varied than the Leatherman's Loop and Run the Farm trails. It varied from rolling gravel to forest floor that wasn't too rocky or tangled with roots. We ran about two miles on the road near the end of the race before we returned to the trails for our finish. I'd thought that this road portion would be the easiest part of the race, but it was 2 ascending miles up a never-ending hill. Typically a headphone-dependent runner, I was surprised at how quickly most of the race passed chatting with you and the other runners and enjoying the forest scenery. That 2-mile uphill road-race portion was the only part where I missed my music, but I kept chugging along slowly, not wanting to lose my momentum.
The creeks we ran through weren't as high as the Leatherman's Loop creeks this year, but the mud we ran through was pretty deep and thick, and then there was the Spartan-race style mud challenge near the end where course marshals made us slither on our backs under a tree branch through a mud pit. We really needed that hose-off at the end!
KD: How was the half marathon distance different on the trails than on the road?
BS: Mentally, it was a lot looser. At the Brooklyn Half the weekend before, I'd focused on staying with a pacer and keeping my pace consistent. This trail half-marathon was a fun romp through the woods and of course running it with you made it more fun. I didn't carry my phone (my only pace-tracking device) or worry about pace. Much of it was single-track, so it would have been silly to worry about pace. Navigating the terrain, chatting with people, and enjoying a beautiful day in the woods were all that occupied my mind. The beautiful scenery and changing terrain made the miles go by before I knew it.
KD: How did you prepare for the race?
BS: You helped me organize two really fun practice trail runs. On Easter Sunday, we took Metro North up to Cold Spring, walked from the train station to the trails, and ran the 5.5 mile Bull Hill Loop. It was pretty rocky and steep, so we had to hike-run it. Then we took Dave Gibbons' recommendation and did our second practice trail run in Rockefeller State Preserve. On May 11th, we took LIRR to Tarrytown and caught a quick Uber to the preserve. We ran about 9 miles on the rolling gravel paths and saw baby deer and lots of sheep along the way. We lucked out on great weather for both our practice runs and our race. Being dog fanatics, we made it our equally important mission to pet ALL the happy hiking dogs! Both of our practice runs were such lovely getaways from the city. I felt like we'd gone on a little va-cay and returned to Brooklyn refreshed and restored.
KD: Would you do this race again? Try a different trail half marathon?
BS: It might be fun to run this race again and be the ones preparing the newbies on the school bus for the course, but there are so many trail runs out there that offer a chance to explore a new place and run through a different landscape that I think I'd like to try a different one next time.
KD: What's next? Ready to take on longer trail distances?
BS: If the terrain were like Charlie Horse, I think I'd be up for a trail marathon. But first I'd like to try a different trail half, perhaps one with more elevation like the Bear Mountain Endurance Challenge, or even Breakneck Ridge, though the stories about that one still scare me!