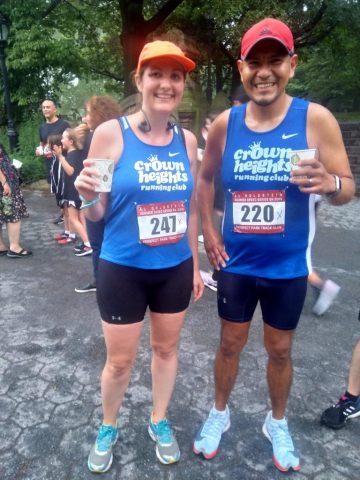 Lungs and legs on fire for the duration of a race is not my idea of fun. Add to this equation heat and humidity and the discomfort level increases exponentially. Some may argue that anyone who participates in such an event more than once must be some sort of masochist. Masochist or no, 2019 marked the second consecutive year that I've signed up for the Al Goldstein Summer Speed Series.
The Al Goldstein Summer Speed Series is a set of seven 5k races that are held every other Wednesday afternoon. They usually begin the Wednesday after the Brooklyn half (last week of May) and end in early August. I guess what draws me to the event is the price. It is $5 per race when you sign up for the whole series ($35), and it's very competitive. There is also the option to sign up for each race individually ($7.50). The race is always scheduled for 7pm. They start on time for the most part, but they can be delayed for a few minutes. It's important to note that there are no corrals. I always try to ask the people around me their target time. If it's more conservative than mine, I move forward. If it's faster than mine, I move back. The races tend to go on rain or shine, but if there is thunder they will cancel.
I don't do any specific training for the 5k. In years past, CHRC speed workouts were done on Tuesdays, but to accommodate the 5k series, they were moved to Mondays (only in the summer). This is great because we have one day to rest between hard efforts. I do the CHRC speed workouts on Mondays and they have helped improve my speed and stamina. The summer marks the beginning of marathon training. It can be hard to incorporate 5k races, but the trick is not overdo it. I switch workouts and get an extra day to fully recover. It only takes me about two days to fully recover from a hard 5k effort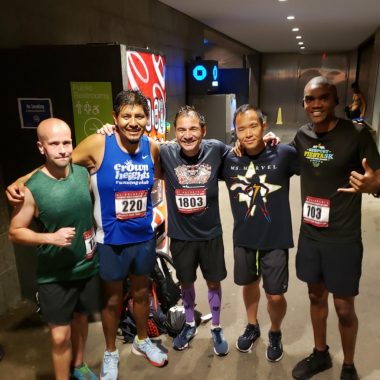 The first race of the series was extra special as it fell on my birthday and Joe B. brought along cupcakes. I had raced the Brooklyn half four days prior and was not expecting a fast time, but somehow I managed to beat my personal record. It was a nice surprise. The rest of the races were fun. A huge PR came along. Another day I almost missed the start time, but the last race of the season was the second most memorable. Many of my strava friends came from the Bronx, Manhattan and Queens. Our goal was to break 19 minutes. The conditions were not ideal, hot and humid, but we tried and pushed each other. We didn't achieve the sub 19, but we gave it our best. There are always friends cheering out on the course. In the first race it was Heather, while at the last one it was Jessie. It always makes me feel extra special when someone I know is out there cheering.
I never place in my age group, but teammates like Brooke and Kelly do. I love to hang out at the award ceremony to witness runners of all ages receive their medals. I mingle with runners from all groups and share how our race went. The results are posted on a wall and everyone gathers anxiously to see if they placed in their age group.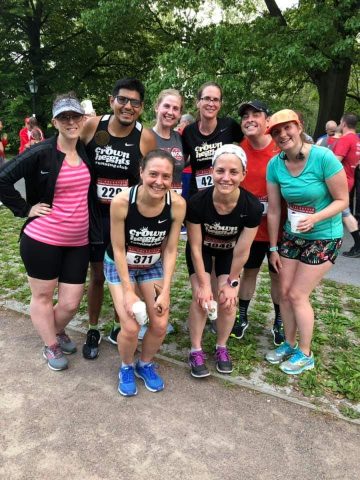 You will always find someone to make you push the pace. Aside from the price, the best part is hanging out with your crew or friends that you make on the course. There is something about suffering together that brings us closer. I don't love the 5k, but I don't hate it anymore either. Racing the series for two years in a row has given me the experience to race it better. I've learned to finish strong and have broken my personal best multiple times. So make the PPTC 5k series your best frienemy like I have.