**Before you read the final chapter of Brooke's Journey, make sure you have read Parts 1 (The Beginning), 2 (Training) and 3 (Starting Miles)! Follow the links to view.**
According to Runkeeper, which tracked me as running a total of 27.10 miles, Mile 18 was a 16:29 mile. But Mile 19 was a 9:07 mile! I felt so much better. Then, at Mile 23, I felt worse. And found myself–NYRR please take note–in a vast Porta Potty Desert. With the 40-year face of Moses, I hobbled up to a gas station only to be told by the cop outside that there was no bathroom. I wandered a long ways down a desolate street deliriously hoping a bathroom would materialize. I considered the penalties, personal and legal, of the public defecation law. I returned to the race course and asked a course marshal, "How far to the next porta-potty?" They didn't know. I speed-walked for what felt like eons before, Hallelujah, a porta-potty with no line! Mile 23 was an 18:13 mile.     
Jen and Miki, my lost lovelies at Mile 24: Jason's Bedford Avenue Pop-Up Magic did not work for us. While you wandered all over Central Park, battling crowds, cops, and course marshals to secure a cheering spot, you received monosyllabic text-barks from me: "where". In my frozen-fingered exhaustion, that was all I could manage. As was my brief pause and whimper of "Jen Fellman!" beneath the Mile 24 marker.
I was fairly ravenous for our hug.
Strangers seeing my woebegone look as I futilely scanned the crowd called out reassuringly, "You've got this, Brooke!" Thankfully I was too dehydrated to cry.
I know you guys went through your own hellish marathon to be there and it meant so much to me. I love you.

After that Mile 24 Heartbreak, I was so worried about finding my family at Mile 25 that I hugged the fence, furiously scanning, for the whole of that mile. I was dog-tired by that point and my mom told me later that I looked it. The final mile was powered purely by my family's hugs. My mom's hug, especially, regained the magical restorative powers it had held when I was a child. 
My dad and stepmom were tracking me from Florida and called when I crossed the finish line. They were with my 92-year-old grandfather, my only living grandparent, and put him on the phone. This call was pretty special for a lot of reasons. My father was an incredible athlete until he became a quadriplegic in an accident when I was ten. He won a football scholarship to the University of Arizona, and when he injured himself, transferred to the University of Florida on a wrestling scholarship. He loved to run. My mom says I have his stride.
"I always wanted to run a marathon," he said.
Because of him, I'm always grateful for my ability to run. My love of running, and so much of my undauntable life lust, come from my father. And my grandfather, who sailed around the world after he retired from law. Less than a month before, I drove up to rural Maine to visit him and do some outdoor adventuring at the height of leaf-peeping season with CHRC-mate Sunny. CHRC-mates Spencer and Zhanna were supposed to come, too, but work got in the way. So it was just Sunny and I who found my sweet, funny, fiercely independent grandfather fallen, bleeding, and deliriously rambling. Sunny helped me to call an ambulance and remembered all of the details that I was too shaken to remember. After driving all day, he waited at the hospital with me late into the night to hear the doctor's determination. Can I again sing the praises of the unparalleled hearts of the CHRC Royals? My grandpa pulled through a minor heart attack, sepsis, and severe abrasions to tackle rehabilitation. "How long do you think I'd been down when you found me?" he asked when we spoke after the marathon. "We don't know," I said, "but you'd had your own hellish marathon." 
That night I brought my mom and stepdad to the CHRC Post-Marathon Potluck at Mostest Hostess Gideon's apartment.
My Texas family met my CHRC family.
What a cat's cradle of connections November 6th was. I loved all of the messages from folks near and far. A shout out to Katie Chisholm, who's now running the streets of Philly, and her beautiful email. I'm so glad we met on that subway to the 2012 Joe Kleinerman 10K. Someday we'll run a marathon together. 
A shout out to the five beautiful boroughs of this diverse, boisterous, fiercely loving city. Thank you for showing me, two days before the election, the stand we can be for each other. That when we're running on empty, love can propel us forward.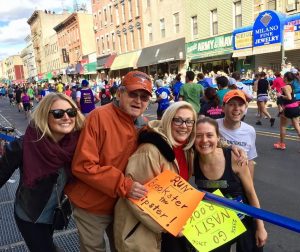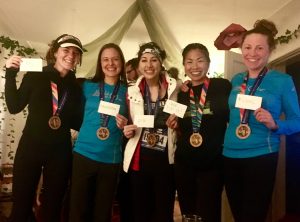 Written by Brooke Shaffner – one of our dear members of Running Royalty and former Marathon Water Wench. You can meet this loving athlete, brilliant writer and now powerhouse marathoner running with the group usually on Tuesday Stamina Runs, Saturday Long Ones and Sunday Trail Runs.