Description
We're putting together our first little race!
Race starts sharp at 11:30 AM on Nov 12th!
So, come to the Prospect Park, bicycle racks on the Flatbush side!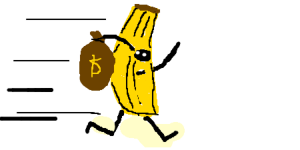 Catch the Banana is a 5km-ish trail race in the style of "Hare and Hounds" – we're going to have a banana (the hare) who makes a course by leaving behind a trail of symbols. The hounds (i.e. you, the Royals) will attempt to sniff out and catch the banana before the banana makes it back to Grand Army. First two person team to catch the banana wins a prize! (Yes, we're doing teams…and they'll be randomly assigned!)
This is part race, part goofy game – i.e. whether you're a runner, jogger, or speed walker YOU have an opportunity for everlasting glory.
This is also a little fundraiser for CHRC. Suggested contribution is $5 per runner (can also venmo or cash) but most of all want to see everyone!
After party will follow. Location TBD – no need to have run all friends welcome!